Cosmic Propaganda and Celebrities
In this brief article, we look at how space exploration propaganda works under the colonial cosmological control by looking at a contemporary example. We focus on the article by Teresa Pultarova  entitled 'Queen Rock legend Brian May launches Space.com astrophotography competition for signed copy of his asteroid book' (2023). This is just one example of how celebrities have been used to promote space lore, in a pattern that goes back to the dawn of state sponsored colonial space exploration just-so tales. Public competitions have been used to push useless products and mould the public mind since before Edward Bernays codified the modus operandi for exploitation and mind control in the 1920s. Our analysis takes into consideration some of the key features of colonial cosmology, elucidating its role in perpetuating cosmic propaganda and shaping public perception.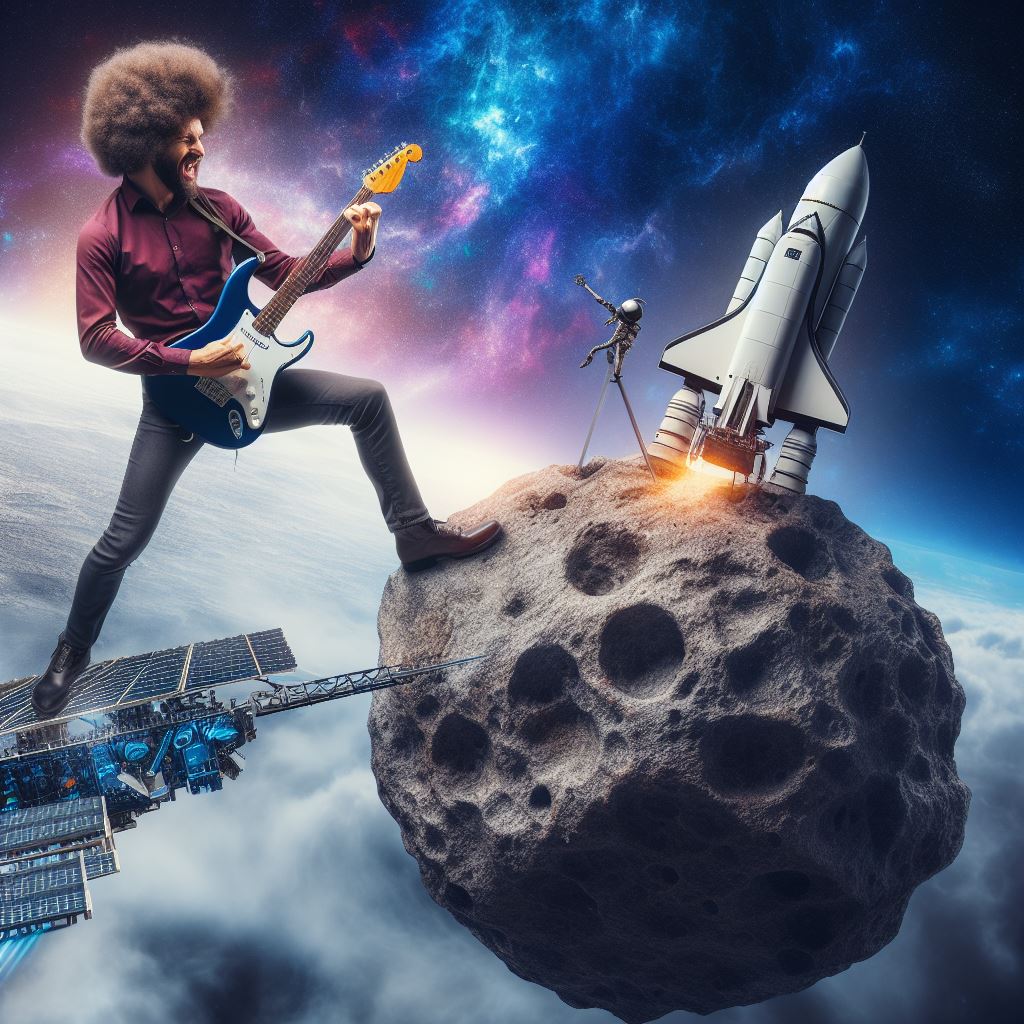 Cosmic Conditioning: The Pervasive Reach of Colonial Cosmological Narratives
The colonial cosmology is an unwittingly absorbed and overarching paradigm that has exerted a profound influence over how people have come to imagine the cosmos and the future. Its multifaceted and interwoven stories ultimately have an effect on people's perceptions of the cosmos and of the world around them, not only in regard to space exploration stories, but also in terms of the current order of things, the alignment between government, corporate science,  and the political theatre system that keeps it running. 
Space exploration tales have invariably extolled politicians and governments as saviors of the earth, pioneers, and leaders who will export their highly evolved culture into other places around the universe, where they will be received with open arms. Believers think that such governments and their brand of science should be exported to the rest of the universe as examples of progressive human evolution. It is a position that represents imperial colonialism in its rawest, most glaring, naïvest form. In our times, such tales have been reinforced through the popular eugenicist doctrine promoted as transhumanism, that is, the idea that humans should be artificially enhanced and modified to perform better. 
Brian May: Celebrity and Cosmic Authority
Let us start with a basic question, who is Brian May and why is he being used as poster child for colonial space exploitation? Of course, Brian May is the guitar player for the iconic band Queen, whose singer, Freddy Mercury, drove the band forward and outshined the rest of the band at all levels. Mercury is better known for his tragic death, as a victim of AZT poisoning, which people were led to think was the product of an AIDS infection. Mercury has been used again and again to reinforce the notion that deadly viruses infections can be detected with PCR tests and treated with unverifiable, patented, corporate pharmaceutical company solutions. The Hollywood biopic focused on Mercury's life is a prime example of how to exploit tragedy to push bogus narratives on unsuspecting audiences while making exorbitant profits at the same time. 
Brian May presents himself not just as Queen's guitar player, but also as a knighted Royal astrophysicist, revealing his role in the world stage as a propagandist. The only issue is that Brian May is not that famous outside rock fan and musician circles. This shows that those audiences in particular are being targeted in this propaganda campaign. Very much like 'rocket scientist,' the term 'astrophysicist' is hyped far beyond what it actually represents. This is the phenomenon of deference to authority, a kind of naïve dissolution of critical thinking through the passive acceptance of fiction. It is also linked to a sense of inadequacy and incapacity that people who perform a job to survive in the world must rely on in order to improve their practical, social and economic chances in the world.  
Brian May's dual role as a rock legend and astrophysicist accentuates the entanglement of celebrity with science in the colonial cosmology paradigm. Curiously, one fact is being rubbed in people's faces — both are simply forms of art, while music is far more interesting. The public relations idea is to try and raise the level of astrophysics, which, being ridden with bogus, unverifiable formulas and dogmas, and epistemologically unsophisticated beyond repair, has nothing to stand on without its artificial computer generated art, bogus space telescope tales, and unrelenting propaganda. 
Brian May's alleged contributions to this art often revolve around the creation of 3D models and visual representations aligned with colonial cosmological theories. The whole practice represents a rather extreme antithesis of empiricism that somehow manages to misrepresent itself to the unsuspecting public as unquestionable science. Astrophysical models, while artistically captivating for believers who are unaware of how they are created, rest upon imaginary theoretical constructs rather than empirical foundations. 
Kings, Queens, and Knaves: The Shady World of Royal Honors
The knighthood bestowed upon Brian May further positions him as a symbol of power within media and serves as a testament to the interplay between fame and cosmic narratives. Knighthoods are traditionally seen as recognizing individuals for their significant contributions to society, implying a sense of superiority. However, the inclusion of figures like Jim Savile, who received a knighthood despite later revelations of a whole range of horrific criminal activities, sheds light on the kinds of characters that receive such titles. 
The typical naïve subject would imagine that the people who receive knighthoods would have their whole lives scrutinized and be squeaky clean. Yet, Savile's underground criminal activities were well known to Stanley Kubrick, who chose to represent Savile in his film Clockwork Orange in 1971. One of Savile's quirks was wearing his disabled victims' prosthetic eyes around his neck in public, which is a very atypical and bizarre thing to do.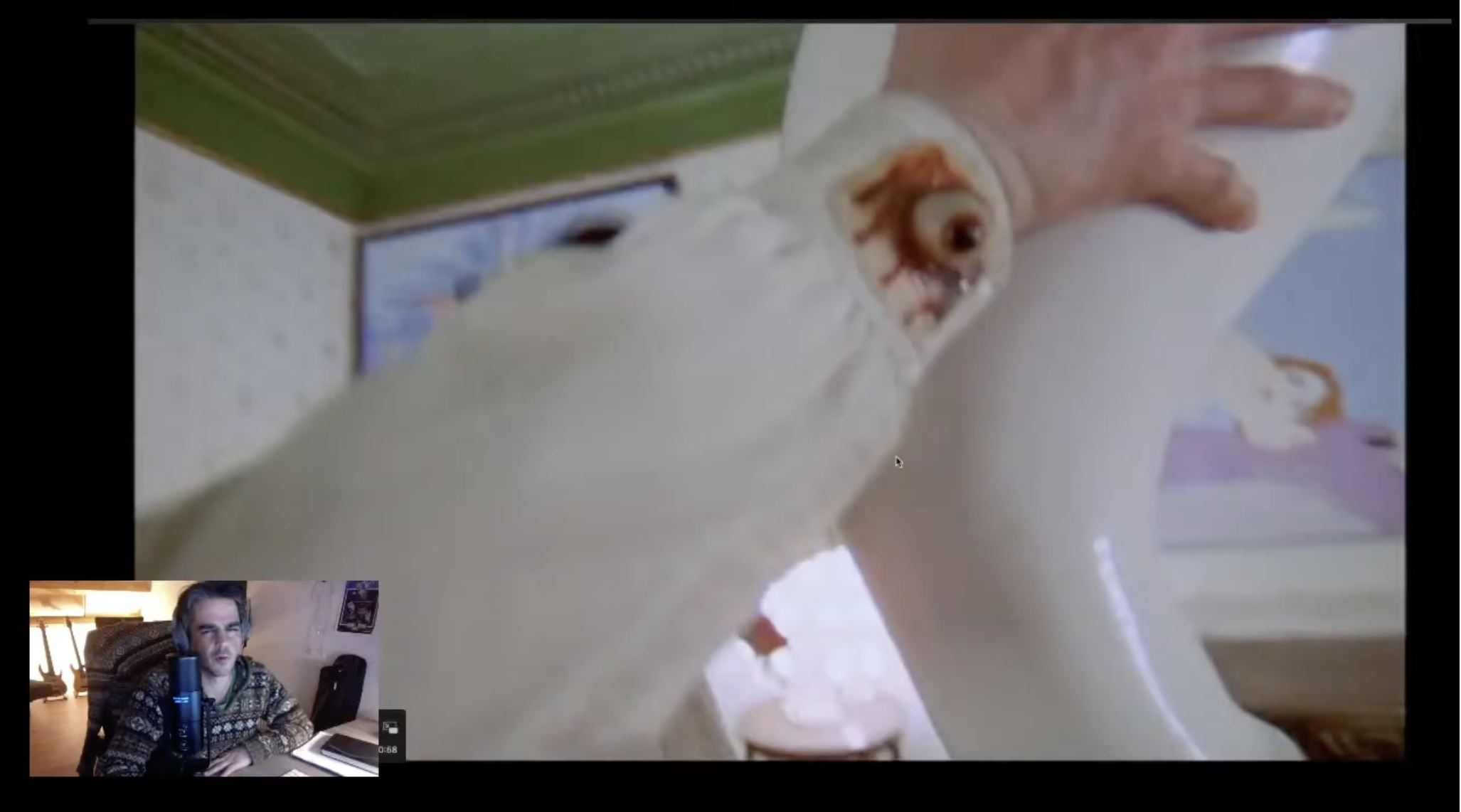 Similarly, the character Alex also wears a prosthetic eye, with no explanation in the film, and wears the same hair due and clothes that Savile wore at the time. Now, this does not say too much about Brian May, but his alleged distinction as a knight is absolutely meaningless, if not obviously damaging. I analyzed this film in more detail in 2020, and you can find it here. It deals with the film in detail, and it goes through evidence that is disturbing to confront. 
The characters whom the state and the royal family endorse for recognition as knights may not be aligned with the virtues and values they are purported to represent. In fact, the state raises them to some godly status in order to promote itself and perpetuate its rule over common people. 
Royal families, with their blatant ineffectiveness, unyielding arrogance, tasteless extravagance, and wasteful tendencies, have undeniably driven the colonial-imperialist chaos built upon racist premises dear to them. Consequently, it is no wonder that they use every opportunity they have to ritually convince the population that they have any legitimacy whatsoever. They would even usurp the idea of God in order to have they chant that God should save their evil Queens and Kings, despite all the atrocities they represent. The scam goes on because people are generally malleable, fearful, and prone to respect fictional authority like obedient, tame subjects should. 
Cosmic Deception: Osiris-REx and the Mirage of Asteroid Exploration
The book Brian May is promoting portrays 3D models of an alleged asteroid named Bennu. The probe named Osiris-REx was supposed to have arrived there and taken some amazing monochromatic shots of what seems like common gravel wrapped as a texture around a digital shell over a pure black background. In fact, it is clearly, just overhyped 3D art simply created on the Earth, and presented to the public as having transcendental cosmic significance. The success and propagation of this tale depends mostly on ignorance and gullibility alone, which are widespread among space exploration believers like the very air we all breathe. 
The name OSIRIS-REx itself represents the obsession of space exploration propagandists with ancient Egyptian religious symbolism, pointing to their participation in the cultic milieu. It mixes Egyptian religious mythology, the god "Osiris," with Latin terminology, represented by "Rex," which translates to "King" or "Tyrant." This fusion encapsulates the dual nature of symbols within this paradigm —  simultaneously invoking intrigue and ambiguity, while reinforcing authority and the supernatural essence of the mission itself, which actually only happens in people's imaginations.
Ultimately, like many other cosmic tales under colonial cosmological control, the Osiris-REx tale supports the utterly ridiculous and unverifiable notion that repetitive and inarticulate people have managed to send a tiny probe out into the solar system, and steer it so that it landed on a moving asteroid, collected samples, and sent them back to the Earth. Once the sample landed, the goofy, overhyped and unquestionable scientist characters come out pretending to confirm what they have been claiming all along, that a bit of dust reveals how the universe was formed, alongside other nonsensical just-so tales. 
From Consent Engineering to Digital Deception: Crafting Public Perceptions
The astrophotography competition, portrayed as an opportunity for the public to engage with the cosmos, which is ironically all around them, conceals its propagandistic purposes. Most such campaigns draw inspiration from Edward Bernays' principles of public relations. Bernays defined public relations as the attempt, through information, persuasion, and adjustment, to engineer public support for an activity, cause, movement, or institution (Bernays 1955:3-4).
The 21st century has experienced the rise of public relations companies to a level beyond Bernays' wildest dreams, which the encapsulation of most of the population within social media informational control structures. Public relations companies use fiction to aggrandize otherwise clearly corrupt public figures, like politicians, artists, science propagandists, and others whom the establishment wants to population to worship. They seek to build up favorable public personas for individuals and attract public support for their causes. Clients seeking to salvage their faltering reputations may also enlist the services of these firms. The hope is that repeated lying will eventually wash away the truth. Governments have been relying on this dynamic, and also on the tendency of people to forget obvious facts, their inability to assess evidence, and ingrained belief in authority, ever since they have existed. 
Bernays asserted that the efforts of public relations professionals should draw upon "scientific principles" rooted in the findings of social scientists (1955:4). This approach to public manipulation is marked by a dispassionate and methodical demeanor, akin to that of the engineering professions. In essence, the ends not only justify the means but also underscore the ultimate objective of maximizing bottom-line profit margins.
Within Bernays' lexicon of public relations, certain ideas hold privileged positions, including organization, planning, objectives, strategy, tactics, themes, and symbols. These elements form the building blocks of a carefully orchestrated narrative designed to influence public perception.
Bernays further noted that public relations practitioners in 1955 were present in various domains, spanning industry, government, the arts, and the sciences (1955:4). Acknowledging the power of public opinion, Bernays emphasized the necessity of manipulating, understanding and adapting to the public, and allegedly informing it, in order to eventually win its favor. In his view, the ability to do so constituted the litmus test of effective leadership (Bernays 1955:5).
Celebrities as Cosmic Puppets: The Power of Ignorance
This article highlights the pervasive use of celebrities in promoting cosmic narratives. Brian May's use as a space exploration propaganda puppet is not surprising. It represents a strategy rooted in the techniques of public perception manipulation that Edward Bernays codified over a hundred years ago. The connection from May to Bernays is both blatant and uncreative, representing a transparent and textbook public relations scheme. Yet, we would not have a reason to be here if others would also recognize what seems so obvious to many of us. Thus, the subject of public perception design under colonial cosmological control continues to hold some intrigue to us. Its dogged popular persistence despite the weight of the evidence against it are testaments to the power of ignorance and dependence, and how it can spread among people who fancy themselves as highly educated. 
The tale of one Brian May, the knighted musician astrophysicist with his book of 3D models, demonstrates the exaggeration of cosmic narratives like Osiris-REx. These facts compel us to be critical when confronted with fictional and unverifiable narratives that are pushed as immutable truths. Above all, our journey underscores the vital importance of discernment and rigorous critical thinking in navigating the intricate landscape of cosmic storytelling within the symbolic power regime of the colonial cosmology.
References
Bernays, Edward. 1928. Propaganda. New York: Horace Liveright.
Bernays, Edward. 1955. "The Theory and Practice of Public Relations: A Résumé." In The Engineering of Consent, edited by Edward Bernays, 3-25. Norman: University of Oklahoma Press.
Kubrick, Stanley. 1971. A Clockwork Orange. Directed by Stanley Kubrick. Produced by Stanley Kubrick and Max L. Raab. Warner Bros. Pictures. Film.
Pultarova, Tereza. 2023. "Queen Rock legend Brian May launches Space.com astrophotography competition for signed copy of his asteroid book." Space.com. September 20. https://www.space.com/brian-may-launches-astrophotography-competition